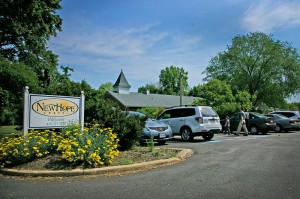 Whether you've never been to church before, or you've been going all your life, you're sure to find someone who came to New Hope Chapel under circumstances similar to your own.
Come as you are
New Hope Chapel is a casual, friendly environment.  Khakis, jeans, polos, whatever makes you most comfortable.
Friendly and welcoming people
We're committed to welcoming visitors into our family with a warm, friendly church filled with love.
Contemporary worship
Our worship service is contemporary, but most importantly, we believe God wants our hearts of worship.
Biblical teaching
Central to our teaching is a thorough study of God's Word.  We dig deep into Scripture, make it relevant, and teach how to apply it.
Generational spectrum
On Sunday morning, you'll encounter babies, energetic senior adults, and everyone in between.  It's not a church just for the elderly or the youth.  It's a place for everyone.
Opportunities to serve
With many opportunities for service, we offer our new visitors and our long-time stewards a place to be involved.
Spiritual growth
Our desire to be like Christ means we come as we are and are changed by the work of the Holy Spirit in our hearts and minds through our encounter with Jesus, prayer, and studying the Bible.
Jewish roots
We often focus on the context of Christianity – its Jewish roots.  Don't be surprised if we're celebrating a Jewish feast, talking about Jesus' Jewish customs, or singing a song in Hebrew.