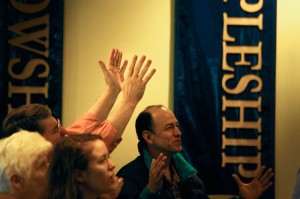 The purpose of New Hope Chapel is to point people to Jesus – that they may know the love of God, live in the love of God, and share the love of God.
That's a nice, clean mission statement, but if you're anything like me, you're probably wondering what exactly that means.
There's a firm and unchanging ideal behind highlighting Christ and the love of God above all else as we fellowship and engage our community. The idea of pointing people to Christ in order to know, experience and share God's love is so straightforward even many disciples overlook it, but linking the two is at the heart of who we are as people and how we operate as believers. The reason we point to the love of God through Christ is simple: Christ is all.
The apostle Paul wrote in his letter to the Colossians, speaking of Jesus, the Christ, that "all things were created through him and for him. And he is before all things, and in him all things hold together." In short, Jesus is the reason for everything. Everything in the Old Testament speaks toward the coming of Christ, and everything in the New Testament speaks to the (once and future) arrival of Christ. He is the reason we gather together in fellowship among disciples, the reason we desire to reach our communities and, at its core, the reason for the world. Each of us was made to glorify God and to enjoy him forever, and we can only do that through the finished work of Jesus on the cross, where he paid the sin debt that each of us owes to God our creator.
That act of substitution on our behalf is the reason for our hope, a "new hope," if you will. We all need this hope, the only kind of hope that fulfills. Such hope only comes through the finished work of Christ. One man chronicled trying to find hope and satisfaction in the things of the world, and he concludes with this in Ecclesiastes 12:13: "Fear God and keep his commandments, for this is the whole duty of men." The commandments we are to keep are many, yet they are so simple. Jesus boiled it down to two: Love the Lord your God with all your heart, soul, mind and strength, and love your neighbor as yourself.
Jesus spoke not of the kind of love men are capable of themselves. Instead, he spoke of the kind of love that only God can give to us, both to receive for ourselves and to share with others. "But I say to you, Love your enemies and pray for those who persecute you… For if you love those who love you, what reward do you have? Do not even the tax collectors do the same? And if you greet only your brothers, what more are you doing than others? Do not even the Gentiles do the same? (Matthew 5:44-47)" In our strength we can only love those who love us, but it is God's love that allows us to love those who we don't know, or who are hard to love.
This love was never more evident than when Jesus, God in human flesh, hung on the tree in our place. While we were yet sinners, Paul wrote, he died for us (Romans 5:8). That doesn't just mean that each of us was and is a sinful being, but it also means that God showed his love when we weren't looking for it. We were, or are, running headlong in the opposite direction of God's love, but still he offers love, reconciliation and hope. It is that radical, supernatural love that compels us to join together in fellowship and to represent God in the community here on the Broadneck Peninsula and beyond.
Whether you visit New Hope Chapel in person, interact with our social media team or listen to teachings from afar, our hope and prayer is that you discover God's love for you permeating through our gatherings, our messages and our interactions. We pray that you discover along with us that Christ is all, and he is all you need.
Pastor David Bashore
July 10, 2017