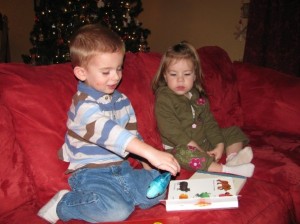 The children are New Hope Chapel's fastest growing demographic.  The Lord has blessed us by presenting us with the opportunity to minister to these infants, toddlers, and children.  The children's ministry involves many different facets.
Sunday School
From September to May Sunday School is available for children from 10 AM – 10:45 AM.  Led by Cristina Cruse and a team of teachers in age graded classes, the time is aimed at teaching children Scripture and Truth of God's Word in a way that is relevant for them.
Nursery
The nursery program is available from 11 AM to the end of the service.  Responsible and mature volunteers care and nurture children ages 0-3.  New Hope Chapel offers an additional private room for nursing mothers with cribs for infants.
Children's Church
Children's Church is for children ages 3 to 5.  Mature, trained, and godly leaders work with the children within the curriculum, teach them about the Scripture and the Truth of God's word, help the children apply that truth to their lives, and lead them in hands-on activities.  Children's Church meets just after the praise and worship time.
"Refuge" for Young People
Led by Don Cruse, this group for ages 13 – high school meets on the 2nd and 4th Saturday of the month from 5 – 7 PM.  They have activities, a Bible Study, and some refreshments.
Homeschool Co-op at NHC
Coordinated by Kristin Bloom, the co-op meets on Thursday from 12 – 3 PM at the church.  The children have different classes to choose from during two 1 1/2 hour sessions.  This is a great way for the homeschool parents and children to build friendships while having fun together.
Occasionally there are other opportunities for children such as a Christmas party, Easter celebration, and a kid's carnival in the fall.  For more information, contact Cristina Cruse.